Was she... the youngest congresswoman? a pioneer in programming? a paleontologist who proved extinction? the mother of entomology? the youngest Nobel Prize laureate? an award-winning conductor? a rock icon?

Discover the inspiring stories with Who's She? 📚
NEW IN: QUIZ GAME!
Do you REALLY know everything about them? 🙃 Check your knowledge with our new card game & discover new mind-blowing facts about women who changed the world!
BUY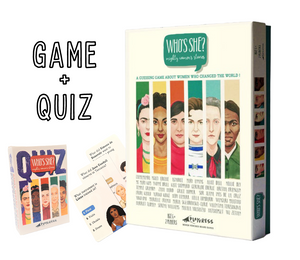 WHO'S SHE? game
Sale price Price €55.00 Regular price €45.00
Tax included.