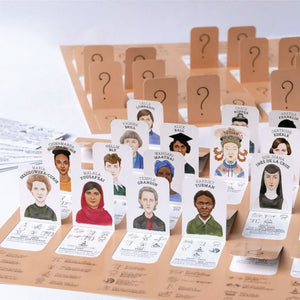 playeress
WHO'S SHE? paper game
Sale price Price €15.00 Regular price €15.00
Tax included.
Discover Who's She? game - our feminist take on the classic Guess Who game!
This is a two player tabletop game about courageous women who changed the world. From Hatshepsut to Serena Williams and Malala Yousafzai - discover their incredible stories!
Guess their identity by asking about their accomplishments, NOT their appearance, with questions like: Did she win a Nobel Prize? Did she make a discovery? Was she a spy? 
Includes : 2 boards with paper flaps, 28 cut-it-yourself biography cards and the rulebook.
We say a big NO TO PLASTIC! This game is totally made out of paper.
**NOW AVAILABLE IN 6 LANGUAGES ! (English, French, Italian, Spanish, German & Polish)**

Envelope size: 335x305x2mm