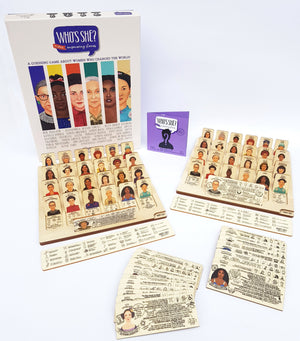 Playeress
WHO'S SHE? 2 modular game
Sale price Price €90.00 Regular price
Tax included.
WHO'S SHE 2 is 

the second edition

 of the two player tabletop game 

about fearless women who changed the world.

 
The second edition is an entirely new collection of 24 extraordinary women from all over the world. Each biography card tells an incredible story of a woman who made a difference. From Ada Lovelace to Simone de Beauvoir. Do you know them all?
Guess their identity by asking about their accomplishments, NOT their looks, with questions like: Did she win a Nobel Prize? Did she make a discovery? Was she a spy?
Inside the box : 

2 modular boards, each with 24 frames featuring stunning watercolor portraits printed directly on wood

24 biography cards

 packed with fun and interesting anecdotes

2 legend strips

 to help you understand the icons, and get you started easily

the rulebook
Who's She 2 game contains six sets: 
- US Champions of Change
- Teen Power
- Fearless 
- Into the Nature
- Game Changers
- Sky is the limit
Now you can easily add & exchange the stories in the game!
The modules also gives you the possibility to upgrade Who's She to a PRO LEVEL of difficulty, and hide the icons on the board to play without them! Play and check if you REALLY know everything about these iconic women!
We say a firm no to plastic - that's why the game is made of Baltic birch & poplar wood for a solid, natural feel & durability. 

All the beautiful watercolor portraits are hand-painted by Daria Gołąb.