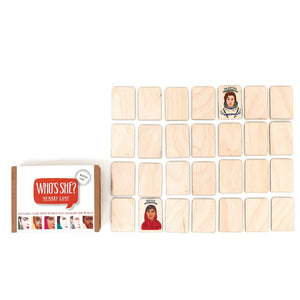 Playeress
WHO'S SHE? wooden memo game | LIMITED
Sale price Price €25.00 Regular price €25.00
Tax included.
Develop your matching skills with our inspiring WHO'S SHE? MEMO!
Mix & match wooden cards representing 14 amazing women who changed the world!
Inside the box: 
 - 28 wooden pieces with beautiful watercolor portraits
 -  1 inspiring leaflet presenting powerful women from Who's She? guessing game
 & ZERO PLASTIC!

❗ There's a limited number of Who's She? memo and each set is unique. All the women are selected randomly from the original Who's She? game!
Why? This memo is made from the flaps we've broken during assembling our game and we couldn't imagine the portraits going to waste!
Illustrations on memo cards were created by talented Polish artist Daria Gołąb.