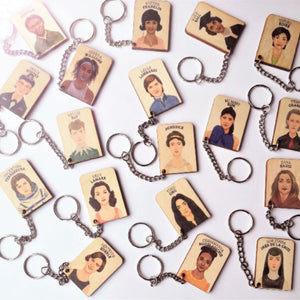 Playeress
WHO'S SHE? empowering key-chain
Sale price Price €3.00 Regular price €3.00
Tax included.
As we try to work as much as possible toward a ZERO WASTE effort, these wooden key-chains are made from the flaps we've broken during assembling the games! We hated seeing them go to waste and came up with the idea to transform them into key-chains :)
Get yourself a wooden key-chain with an extraordinary woman who changed the world!

Please note that items are selected randomly! 
And in order to be time efficient, if you're getting only Who's She key chains, there is a 3 items minimum to be able to place your order. If you are also ordering any other Who's She product, feel free to grab just one!

Thank you for your understanding.