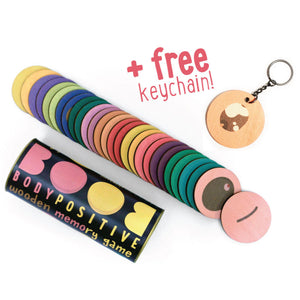 Playeress
BOOB - a body-positive wooden game
Sale price Price €25.00 Regular price €25.00
Tax included.
Meet our new product BOOB: a wooden matching game that shows diversity and encourages self-love.
Our memory game crashes today's body standards and shows that breasts come in different shapes, sizes and colors. 
The game contains 14 pairs of wooden memos with colorful prints of breasts on them.
Each memory tile is made out of beautiful birch wood, cut with laser precision for a neat edge and sanded with care for a soft finish.