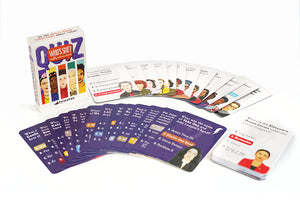 Playeress
Who's She? Quiz
Sale price Price €15.00 Regular price
Tax included.
Your favorite women from Who's She? game made it to our new #girlpower quiz!

This women-celebrating card deck has been created to immortalize powerful stories, educate & have a lot of fun with! Over 100 questions based on the inspiring women's stories closed in a small practical box, so you can keep it in your pocket!

Chimamanda. Lizzo. Malala. Maria. Frida. Simone. Harriet. and 45 more.

Each of 54 cards is representing a woman who was brave enough to make a change. In the deck you will also find 2 jokers - empty question cards, so you can add any woman of your choice!

Cards are divided in to 2 levels of difficulty, so you can check your knowledge and learn more to dazzle your friends with fun facts!
⚪ Beginner - facts from Who's She? guessing game
🟣 Expert  - new mind-blowing facts to discover

Find out if you REALLY know everything about them!

Available in English & French
For: 2 players +
Age: 6+
9cm x 6cm