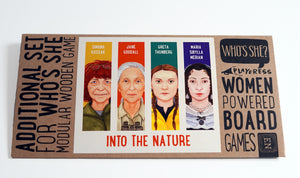 Playeress
INTO THE NATURE additional set
Sale price Price €15.00 Regular price
Tax included.
This set expands WHO'S SHE 1.

INTO THE NATURE set includes all necessary wooden pieces to add 4 empowering women's stories:

Greta Thunberg
Maria Sybilla Merian
Simona Kossak
Jane Goodall
to your WHO'S SHE 1 MODULAR GAME!

Inside the box:
- 4 biography cards
- 2 exchangeable modules (1 for each board)
- 8 flaps (2 of each woman)

Add more empowering stories to your MODULAR GAME and create your OWN game!