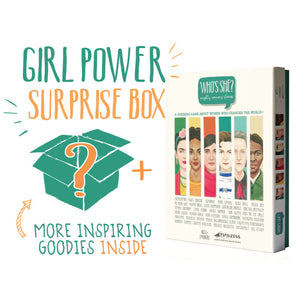 Playeress
GIRL POWER surprise box
Sale price Price €65.00 Regular price
Tax included.
Our Girl Power mystery box is filled with empowering products ONLY! 💪 Each box includes Who's She? guessing game & bunch of Playeress goodies - all worth at least 90 EUR!

In each box guaranteed:
- 1 Who's She? game (language to choose!)
- bunch of (at least 4!) SECRET ❓ Playeress goodies: games, posters, bookmarks, coloring pages... can be anything from our store!

Remember! This is a mystery box so items will vary.

🌎 BOX available in 6 languages: English, Spanish, French, Polish, German & Italian.

🧡 It's a gift? Let us know by leaving a message to your gift card!


MADE TO LAST. MADE TO EMPOWER.